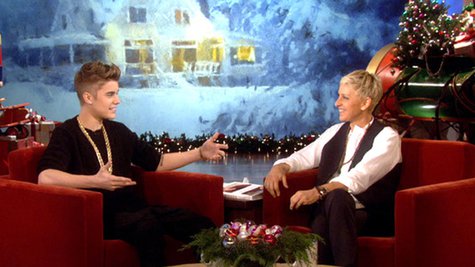 Justin Bieber's manager Scooter Braun went on a Twitter rant when Justin failed to get a Grammy nomination this year, but The Bieb himself seemed more nonchalant about the topic when asked about it on Friday's edition of The Ellen DeGeneres Show.
Asked by Ellen if failing to receive a Grammy nod was "a big bummer," a diplomatic Justin replied, "You know, it's definitely something that I was looking forward to, but I know that it will happen one day." He meant actually winning a Grammy; he's been nominated in the past.
Justin added that at age 18, his career is still young: "I'm blessed to be able to do what I love every day...[so] hopefully...one day."
Also on Ellen, Justin confirmed what he's been hinting at on Twitter: he's recording an acoustic album, and it'll be out in January. "It's something I think the fans really like because I started out on YouTube just playing my guitar, just singing without all the production and stuff," he told Ellen. "So I like to, just, y'know, put out acoustic albums. I think it's more, like, intimate."
Justin also took the opportunity to clear up the backlash he suffered when a photo appeared of him accepting a prestigious award from Stephen Harper, the prime minister of Canada, while wearing overalls. Many accused the singer of having no respect and no class, but as he pointed out on Ellen , he didn't go to the prime minister's office dressed like that: Harper came to him.
"He came to the venue where I was performing," Justin told Ellen, who reacted with surprise, since all the photos of the event showed Justin and Harper shaking hands in an official-looking setting with flags in the background. "That was at your venue? He brings his flags with him?" asked Ellen. When Justin said yes, Ellen said, "Well, that's not fair, because it looks like you went to his office dressed like that, but he brought flags to make it look like you're under-dressed. That's not fair."
Justin agreed, saying, "I know it wasn't fair, but that was really at my event. I really promise if I would've went to his environment, I would've been all done-up!...Look at me. I had on overalls. It looks bad!" Saying she'd make sure such an incident would never happen again, Ellen presented Justin with a pair of tuxedo overalls.
Copyright 2012 ABC News Radio
video platform video management video solutions video player
video platform video management video solutions video player