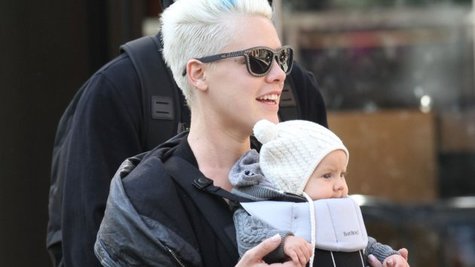 Right now, Pink's main focus is her Truth About Love tour, which kicks off in February. But she says that on the personal side, she's got a ten-year plan, and it includes having more kids. Lots more kids.
Speaking to the British paper The Telegraph, Pink says that having daughter Willow is "the best thing I've done," and now she wants a "basketball team's" worth of children. She predicts, "In 10 years I'll have an 11-year-old and an eight-year-old and a five-year-old and a three-year-old and a six-month-old and 18 dogs, a horse and a pig."
Pink also claims she'll stop touring once Willow starts school, but for now, she's preoccupied with rehearsing for her tour, which is likely to feature the kind of aerial trapeze-type tricks she's become famous for. In fact, she reveals to the Telegraph that she once dreamed of becoming an Olympic gymnast, but she got "kicked out when I was 12" for being too competitive.
"I wouldn't clap if I didn't win first place," she admits. "The actual remark was 'non-teamlike attitude.' I was like, 'f*** you, I'm out of here, I'm going to be a rock star instead.'"
Copyright 2012 ABC News Radio