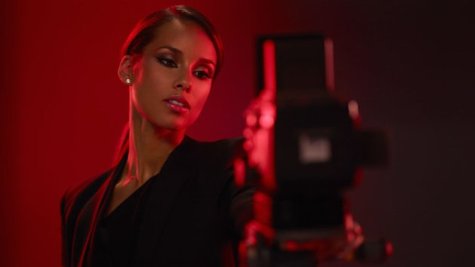 Not long ago, the website Showbiz411.com reported that composer Earl Shuman, who co-wrote the 1970 Eddie Holman hit "Hey There Lonely Girl," was going to sue Alicia Keys for allegedly appropriating a portion of his song in her hit "Girl on Fire," without giving him credit. Well, now he's gone and done it.

Shuman's lawyer Phillip Kaplan confirms to ABC News Radio that he filed suit last week in California federal court. The complaint quotes most of the Showbiz411.com article verbatim, including a line where writer Roger Friedman noted, "Keys only uses two seconds of the original, but it helps make her record." Shuman's complaint states that the "two seconds of use" comment is "not accurate," but says that all of Friedman's observations are "in essence, apt."
In his complaint, Shuman asks for a judgment of copyright infringement against Alicia and the song's other co-writers. He also wants his legal costs paid, plus a share of the song's profits, and damages.
The specific point in question in Alicia's song comes at 2:24 into the track, where she sings, "Nobody knows that she's a lonely girl/And it's a lonely world."
Copyright 2012 ABC News Radio