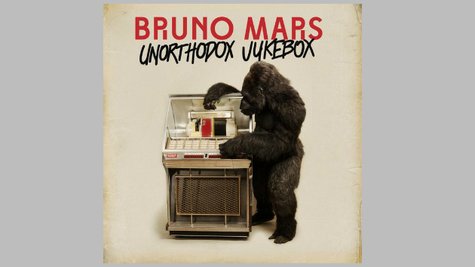 Looks like Bruno Mars may orbiting the top of the Billboard album chart after all. After it experienced stronger-than-usual sales over the weekend, Bruno's new album Unorthodox Jukebox now has a shot at becoming his first #1 album.
Initially, projections had Taylor Swift 's Red taking the #1 spot on the chart, followed by Michael Buble 's Christmas album, leaving Bruno in the dust at #3. But the album sold between 180 and 190 thousand copies over the weekend: way more than expected. Now, it's a fight to the death with Taylor Swift for the top spot, since Red sold around the same amount. We'll find out for sure on Wednesday morning.
If Unorthodox Jukebox debuts at #1, it'll be Bruno's first chart-topping disc. His debut, Doo-Wops & Hooligans , peaked at #3 in 2010.
Meanwhile, Bruno's hit "Locked Out of Heaven" has reached #1 on Billboard 's Pop Songs chart, which measures airplay. That ties him with Nelly and Justin Timberlake for the most #1s on that chart among solo male artists: they all have five.
Copyright 2012 ABC News Radio