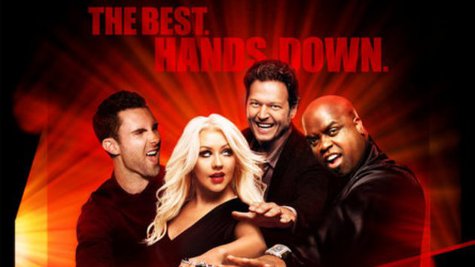 Monday's final performance installment of The Voice opened with a tribute to the victims of the school shooting in Newtown, Connecticut. In a moving opening, the four judges -- Adam Levine , Christina Aguilera , Blake Shelton and Cee Lo Green joined a number of Season 3 contestants in a performance of Leonard Cohen 's "Hallelujah" as each held a card bearing the name of one of the victims.
Monday's show featured finalists Cassadee Pope and Terry McDermott , representing Team Blake, and Nicholas David for Team Cee Lo. Each sang a song new to them, and also performed a favorite that put them "on the map" during the season.
Each of the three finalists hope to gain enough of America's votes to be crowned "The Voice" and win a recording contract. The results will be announced Tuesday during a star-studded final that will include performances by Rihanna , Kelly Clarkson and the Killers .
Here's a rundown of Monday's performances:
Team Cee Lo:
-- Family man Nicholas David has beaten alcohol addiction and obesity with the help of his wife. He has won over judges and audiences alike with his soulful, timeless voice. His first performance was a medley of "Great Balls of Fire," by Jerry Lee Lewis and "Fire," by Jimi Hendrix . Adam was glad Nicholas had fun and let loose. Blake agreed that the performance was fun and was a celebration. Cee Lo said Nicholas' fire "burned this house down."
-- Nicholas sang the song which brought him the most attention this season. Backed by a soulful choir, he sang "Lean on Me," by Bill Withers . Adam loved the version of the song. Cee Lo added that Nicholas never fails to amaze him, saying "I love you, man."
Team Blake:
-- Former Hey Monday singer Cassadee Pope gained confidence as a solo artist during the season. She has a special way of connecting with a song and has found a niche performing pop rock and country songs. Having been estranged from her father for several years, Cassadee revealed that he has recently been in touch since seeing her on The Voice. She sang "Cry," by Faith Hill . Adam said he was proud of Cassadee's time on the show. Blake said this was her best performance since joining his team.
-- Cassadee gave an encore performance of "Over You," co-written by her mentor Blake Shelton, as performed by Blake's wife Miranda Lambert . Christina said Cassadee looked stunning and "nailed" the song. Adam noted that Cassadee's voice had developed over the course of the season. Blake said he was touched by the "perfect" performance and that it could possibly "start the healing process," in light of recent tragic events.
-- Terry McDermott is on a mission to bring classic rock back to the forefront. He delivers big rock vocals in an unapologetic manner and struts the stage arena-style. He sang his young son's favorite song – "Broken Wings," by Mr. Mister . Adam could tell that Terry had a monitor problem near the start of the song, which he overcame gracefully. Blake said Terry delivers week after week, and each time is "an epic."
-- The song which became Terry's "tipping point" during the season was, "I Want to Know What Love Is," by Foreigner . He reprised the number for finals night. Christina said Terry has "an incredible voice" and noted his work ethic. Blake said Terry "drove him crazy" with his talent.
The evening also featured some entertaining collaborations between the judges and contestants:
-- Terry and Blake teamed up for Aerosmith 's "Dude (Looks Like a Lady)." Adam joined in the fun, going shirtless and donning a long wig, as he played lead guitar.
-- Cassadee joined Blake on "Steve McQueen," by Sheryl Crow , complete with a couple of Harley Davidson choppers on stage.
-- Cee Lo and Nicholas hit the stage for "Play That Funky Music," by Wild Cherry , accompanied by acrobats and a "mini-me" Cee Lo Green, played by a very talented child-dancer named Milo .
The Voice returns with its final live results show on Tuesday at 8:00 p.m. Eastern time.
Copyright 2012 ABC News Radio