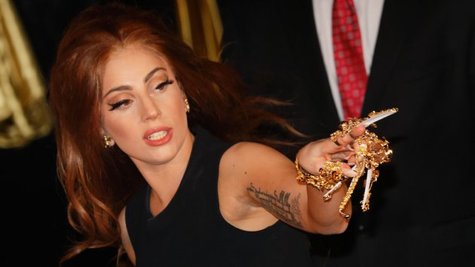 Before she became a superstar diva, Lady Gaga was just plain Stefani Germanotta. And now that she's home for Christmas, she's a tad annoyed that her parents have the gall to call her by the name she was born with.
Describing the scene at her parents' house as everyone prepares for the holiday, Gaga tweeted , "im a vision, sh**ly wrapping xmas presents, getting blunt ashes on everything, while everyone calls me 'stephanie.' my family is so eighties."
Interestingly, in the tweet, she spelled "Stefani" with a "ph," even though it's been widely reported that she spells her name with an "f."
Gaga then shared a conversation with her mother in which she attempted to have her call her by her stage name. "um mom, my name is gaga," the singer wrote, and then added her mom's response: "She told me I changed my name every year since i was 4, + to please take the ends off the string beans."
When a fan wrote back, jokingly, "Who the f**k is this 'Stephanie' person you're talking about?!" Gaga replied, "I dunno, my parents keep asking for her."
Copyright 2012 ABC News Radio