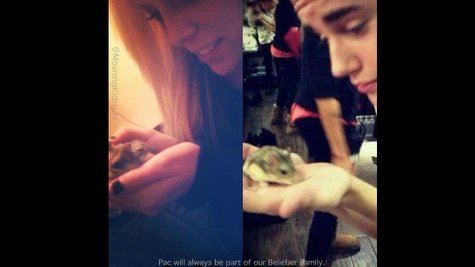 When Justin Bieber gave his pet hamster Pac to a fan recently, all he was trying to do was find a good home for the little furball. He never could have predicted that his gesture would get him slammed for "animal cruelty" by a hamster advocacy group -- yes, there is such a thing. Thankfully, now, they're backing off their initial disapproval of the singer.
It all started when Justin gave Pac to fan named Tori on December 13. After that, the California Hamster Association told TMZ that Justin was "practicing a form of animal cruelty," because pets shouldn't be given to "unknowing recipients." Said the group, "The moment that hamster was handed off to a screaming girl in a harsh, frenzied environment was likely the moment it gazed at the short path to its doom."
But now that Pac's new owner has stated that the rodent is doing fine, E! Online reports that the advocacy group has changed its tune.
David G. Imber , a longtime "hamster advocate," tells E! Online, "The recipient is apparently doing her best to do right by the animal, and for that I supposed we should actually thank Mr. Bieber!" But, he noted that "in most cases the situation would almost certainly turn tragic."
Copyright 2012 ABC News Radio