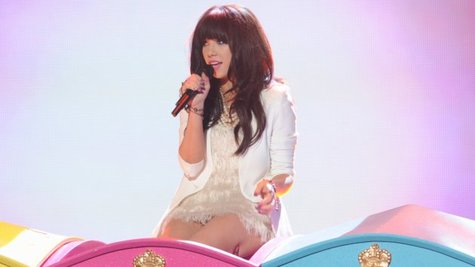 Each year on its list of "Breakouts," Entertainment Weekly highlights the newcomers who seemingly came out of nowhere and became big stars. This year, there are quite a few musicians who've made the cut.
Carly Rae Jepsen has made the magazine's list thanks to her undeniable hit "Call Me Maybe." She tells the magazine that last year, she tore up a bed sheet, pinned it to her wall and wrote her goal for the new year on it. "The main one for me was to try to break out of Canada, and that happened in a bigger way than I expected," she tells EW. Yeah, kinda...as in a song that reigned for nine weeks at #1 on the chart and earned two Grammy nominations and an American Music Awards. "The fact that [the song] has spread worldwide...has been such a cool thing for me to witness," says Carly.
One Direction is also on the list, and they tell EW that their wish list for musical collaboration includes Bruno Mars and Katy Perry . "That would be the ultimate, but it's a far shot away," admits Niall Horan . Still, they haven't managed to do too badly, what with their two #1 albums and all. "It's been crazy," admits Niall.
Scottish deejay, songwriter and producer Calvin Harris also makes EW's list, both for writing and producing Rihanna 's "We Found Love," and for his own hits "Feel So Close" and "Let's Go." "I've noticed the shows getting bigger and more people knowing my songs," he tells EW , noting that one of the more surreal moments of the year was looking down from the stage at Coachella and seeing "Katy Perry going wild, crowd-surfing" to his music.
Finally, breakout group The Lumineers appear on the list thanks to their catchy hit "Ho Hey," which has gone platinum. The group just grabbed two Grammy nominations, including Best New Artist, even though they've been around for seven years. Frontman Wesley Schultz says of their new-found fame, "It's like we've been in a car...but we were only moving at 10 miles per hour. But now the car's going 60."
Non-musicians who made the list include Ted , the stuffed teddy bear who starred in the movie of the same name; Jessica Pare of Mad Men; Stephen Amell , star of the CW's Arrow ; comedian Tig Notaro ; and actress Anna Camp .
Copyright 2012 ABC News Radio