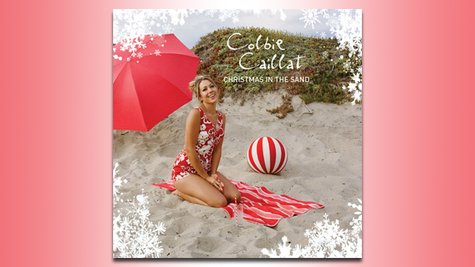 Colbie Caillat was definitely in the Christmas spirit this year, putting out her first holiday album, Christmas in the Sand, and appearing at events like the National Christmas Tree Lighting and the CMA Country Christmas TV special. But she says this year, there's one traditional aspect of the holiday she's putting a stop to: presents.
"Every year we overdo it and we always yell at each other for doing it," Colbie tells ABC News Radio. "It's ridiculous. Our tree is overflowing with presents...there's a lot of us but still, we just overdo it." She adds, "We talked last year how absurd it was, and how I'm starting to not enjoy Christmas as much because you spend it shopping at the mall the whole time."
The solution? Drastically cut down on the gifts. "This year, we wanna either just do one present or no presents, or make each other something," says Colbie, noting that if she happens to see something that reminds her of someone in her family, she'll buy it. What she won't do, she says, is "write out a list, and then go purchase it for the other person," adding, "It's kinda silly."
Now that the presents are sorted out, Colbie can focus on where she's spending the holidays. Her album Christmas in the Sand was, in part, inspired by people like her, who tend to spend December 25 in a place where there's no snow. "Obviously, the holidays are really nice and special when you have a white Christmas, or where you're in a place where you can bundle up," Colbie tells ABC News Radio. "It just...has a more romantic feel." And while her childhood Christmases were white, California girl Colbie is heading for the sun this year.
"We're spending it at my house and my parents' house in southern California," she says. "So, we're gonna have a 80-, 70-degree sunny, bright day on Christmas, but I [still] like the mix."
Joining Colbie and her family for Christmas will be their beloved rescue dogs -- they have quite a few. While Colbie says she doesn't normally dress up her pooches, she made an exception for Christmas. "I just bought from Target this cute little Santa costume," she laughs. "My little puppy...he looks like Santa. He's, like, this white furry mutt. And so I put him in this Santa coat and he was so mad at me...but I only let him stay in it for, like, five minutes, and then I take it off!"
Colbie's Christmas in the Sand album, which features the title track and "The Christmas Song," is in stores now.
Copyright 2012 ABC News Radio