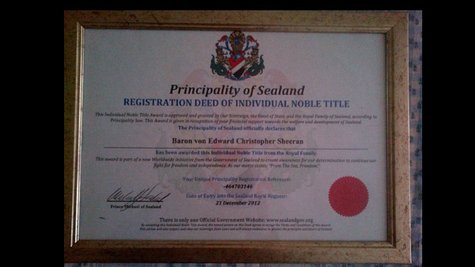 First, Ed Sheeran got a Grammy nomination. Now, he's got a royal title...sort of. The singer has been dubbed "Baron von Edward Sheeran" by the independent state of Sealand, which is actually an offshore rig sitting in the sea seven miles from the coast of England.
Here's what happened: in 1967, a guy called Roy Bates moved to the structure, which was originally built by the British government to house anti-aircraft guns during World War II. Bates declared it an independent sovereign state, and his family has owned it ever since.
Bates' grandson James Bates is now the self-styled Prince Royal of Sealand, and he tells the BBC , "One of our avid supporters said he'd been speaking to Ed and telling him the story of Sealand and he found the whole thing fascinating and asked if he would be able to get a title, so we've conferred the title of baron on him."
Ed's version of the story, as he explained it on Twitter, goes like this: "A friend of a friend owns an oil rig that got made into a country legally, and called Sealand, which made him the king of Sealand...Which means he can give out titles to people. So he's given me the title of Baron von Edward Sheeran. I am a Baron. Awesome s***."
He also tweeted link to an Instagram photo of the framed certificate that gives him the title. "Epic," wrote Ed.
Copyright 2012 ABC News Radio