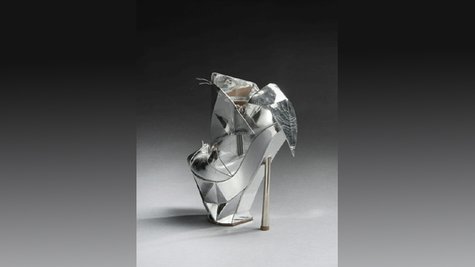 A silver Armani platform shoe that Lady Gaga chucked into the crowd at one of her concerts is heading to the auction block in February.
The Paris auction house Drouot is selling the shoe as part of its fifth annual "Man and His World" sale, which takes place on February 11. The metallic silver leather Emporio Armani spike-heeled platform was thrown into the crowd on December 19, 2010, during Gaga's Monster Ball tour stop at the Bercy concert hall in Paris. It's estimated that the shoe will bring four to five thousand euros, or about 6,600 bucks, when it goes under the hammer. One of Michael Jackson 's fedoras is also up for grabs at the sale.
In other Lady Gaga news, Mariah Carey seemed happy to hear that Mother Monster was rocking out to her music on Christmas. Gaga tweeted , "I'm listening to @MariahCarey 's christmas album dancing in my room...#bestdayever." Mariah retweeted Gaga's comment and added "XoXo!" -- meanwhile, fans started begging for a duet between the two divas.
Copyright 2012 ABC News Radio