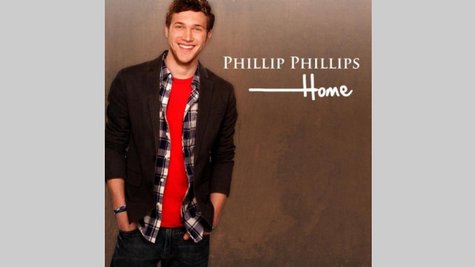 Most American Idol coronation songs do pretty well when they first come out, but nobody could have predicted the juggernaut that Phillip Phillips ' "Home" turned into. And Phillip says that now, finally, he feels comfortable with the song.
"Home," one of the few debut singles by an American Idol alum to receive praise from music critics, started out strong and just kept going and going. It ended the year as the best-selling coronation song ever by an American Idol champ. But initially, Phillip didn't feel much of a connection with "Home," for two reasons. First, he didn't write it. And second, he said that it was "a little too pop" for him. "I guess I'm a little more rock than that," he said at the time.
But now that he's performed it on every TV show imaginable, and live every night on the American Idol tour, Phillip says he's finally started to feel like "Home" is "his" song.
"You know, at first, I like to have some kind of connection with a song and that's why [it] was a little, you know, strange at first," he tells ABC News Radio. "But I've grown to make that song more of my own, and have so much fun with it. And hearing people sing with me out in the crowd is just weird 'cause I'm not used to it! So it's really interesting...it's really cool."
"Home" has also fit very nicely into one of this year's big musical trends: folky-sounding tunes. Mumford & Sons and The Lumineers are two other acts who found success with this type of music, and Phillip says he's happy that music's moving in a more organic direction.
"It seems like slowly....music is changing," he tells ABC News Radio. "[There's] some folk...and a little bit of rock. So it's good to see that musicians and bands are coming back out, like it was in the '70s and '60s." Phillip's next single, "Gone Gone Gone," also has that folky feel to it.
In other Phillip news, he has a nice new Christmas present: a brand new Ford Explorer Limited, which he proudly showed off on Instagram . It's thought that this is the Ford that Phillip won as part of his American Idol title.
Copyright 2012 ABC News Radio