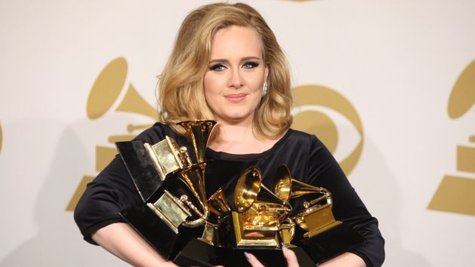 After a 2011 that saw her dominate music completely, Adele managed to keep making headlines in 2012, for both her music and her personal life.
After being sidelined by throat problems the previous year, Adele made her big comeback at the Grammy Awards in February, performing a powerful version of "Rolling in the Deep" and sweeping the boards, taking home six trophies, including Album and Record of the Year. She also scored at the Brit Awards, the U.K. version of the Grammys, and made headlines when she gave the camera the finger when her acceptance speech was cut short.
Meanwhile, "Set Fire to the Rain" became Adele's third #1 hit from her album 21, and she also squeezed one more single out of the disc: "Rumor Has It," which peaked at #16. By the end of the year, 21 had sold 10 million copies in the U.S. -- one of only 21 albums to do so in the Soundscan era. New music came in October when Adele's long-rumored James Bond theme, "Skyfall," was released to critical acclaim. It was the first Bond theme to reach the top 10 in the U.S. since Madonna 's 2002 theme for Die Another Day.
In the midst of all this, Adele also experienced some major life changes. She began dating c harity entrepreneur Simon Konecki in January, and in June, she announced they were expecting their first child together. At the time, it was thought that she had just gotten the news; in fact, she was already five months along.
In October, Adele gave birth to a son, though she has never actually confirmed the birth herself nor released the baby's name -- quite remarkable in these days of 24/7 access to stars' personal lives, but that's just how Adele rolls. As she told Matt Lauer in her NBC special Live from London , which aired in June, "I don't want to be a celebrity. I don't want to be in people's faces."
Adele ended 2012 by being named Billboard's Artist of the Year for the second year in a row. Her album 21 also was the publication's Album of the Year for the second year in a row. There has never before been an artist who's repeated in both categories in two consecutive years.
Copyright 2012 ABC News Radio