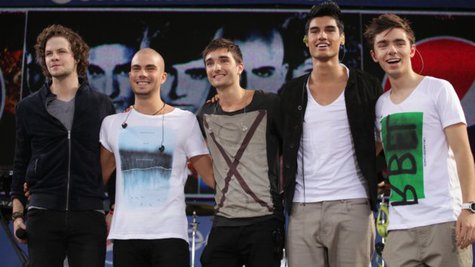 2012's been a breakout year for The Wanted : they've scored their first big U.S. hit single, seen their music performed on Glee , contributed to the Ice Age sequel soundtrack and been nominated for an MTV VMA and an American Music Award. Now, they're going to ring in 2013 by appearing on America's biggest New Year's Eve show: Dick Clark's New Year's Rockin' Eve with Ryan Seacrest.
The Wanted will be part of the Fergie -hosted West Coast party portion of the show, which airs Monday night on ABC, and they say they're thrilled to be included alongside acts like Flo Rida , Justin Bieber , OneRepublic , Pitbull and fellow Brit Ellie Goulding .
"It's a huge moment for us," says Max George . "I mean, we've had a year that's been full of achievements, but to finish it on such a high -- it's such a well established thing, especially, in America -- it's just an amazing thing for us. It's one of the highlights of my year, definitely."
But was the group even aware of what New Year's Rockin' Eve was before they were tapped to perform on it? After all, Dick Clark wasn't a household name in the U.K. as he was in the U.S. The Wanted 's Jay McGuinness tells ABC News Radio that even though he couldn't watch the show back home in England, "I knew of it. I knew how big it was and I knew that it was, like, the main event of the New Year."
He adds, "I think the reputation did cross over the Atlantic Ocean and, yeah, I can't believe we're actually doing it!"
In addition to seeing 2012 out in style, the boys have some New Year's resolutions for 2013. While Nathan Sykes says he's going to try to keep in touch with friends and family a bit more, Tom Parker has chosen something difficult. "I'm gonna try and give up smoking," he tells ABC News Radio. "It's a pretty bad habit. So, I'm gonna try and do it this time. We'll see."
Jay, however, is cheating when it comes to his resolution. "I am probably gonna try and give up meat for a year," he laughs, "But...because I'm already a vegetarian, it'll be pretty easy!"
Expect a brand-new Wanted album in 2013.
Copyright 2012 ABC News Radio