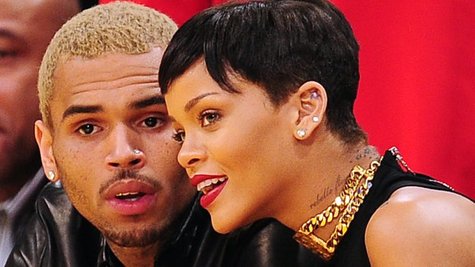 Rihanna couldn't seem to stay out of the headlines in 2012 and she fed the fire, providing constant updates on Twitter and Instagram to her loyal and fanatical fan base, which she'd dubbed her "Navy."
The singer's complicated relationship with her ex Chris Brown got even more complicated in late December 2011, when he tweeted -- to no one in particular -- "Love U more than u know!" and Rihanna wrote, just moments later, "I'll always love u #1LOVE." That hint that the two still had something between them became more clear in February, when Chris appeared on Rihanna's "Birthday Cake" remix.
Some fans and critics welcomed the track, while others questioned Rihanna's decision to collaborate with a man who had, just two years prior, admitted in court to physically beating her.
On Oprah's Next Chapter, Rihanna acknowledged that she had forgiven Chris, and revealed that she still loved him and was working on her friendship with him. Complicating matters was the fact that, at the time of the Oprah interview, Chris was dating aspiring model Karrueche Tran . In early October, though, Chris was seen hanging out with Rihanna in New York City, and just days after the pair were spotted cuddling at a Jay-Z concert, Chris officially announced his split from Karrueche. Not long after, he released a video in which he wondered aloud whether someone can be in love with two people.
The Rihanna/Chris Brown saga was almost enough to make people forget about Rih's record-breaking year in music. Thanks to "Diamonds," the lead single from Rihanna's latest album Unapologetic, the singer landed her 23rd top-10 hit on the Billboard Hot 100 chart, while Unapologetic became her first-ever #1 album. Even the bad publicity surrounding her "777" tour -- in which she packed journalists and fans into a jet and flew them around the world in an exhausting, unsatisfying whirlwind tour -- didn't hurt album sales. The disc included a full-fledged duet with Chris Brown titled, appropriately, "Nobody's Business."
Rihanna closed 2012 by scoring three Grammy nominations. Her only professional disappointment of the year seemed to be her big-screen debut in the movie Battleship, which was panned by critics and is considered a box office flop.

Rihanna is up for three Grammy nominations: Best Rap/Sung Collaboration for "Talk That Talk" with Jay-Z , "Where Have You Been" for Best Pop Solo Performance and "We Found Love," featuring Calvin Harris for Best Short Form Music Video.
Copyright 2012 ABC News Radio