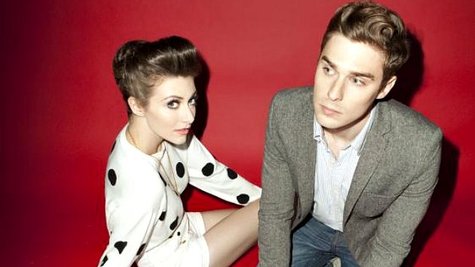 Making New Year's resolutions to work out more, lose weight or stop smoking is so 2012. In 2013, Karmin 's Nick Noonan and Amy Heidemann resolve to do something truly meaningful: get married.
The music-making duo have been a couple for more than seven years and got engaged two years ago, but their career has taken off so quickly that they just haven't been able to carve out any time in their schedule to say "I do." "It's just been postponed and postponed and postponed," Nick tells ABC News Radio. "For the career, though, it's all good!" adds Amy, who isn't spending her time longingly looking through Bride's magazine or anything.
"The postponing's fine, but we're trying to figure out how to sneak it in somewhere this [coming] year. I think that's the goal," she adds. Unfortunately, Nick says the duo's schedule is "already kind of building up." After putting out their debut EP in 2012, they plan to release a full-length disc in the new year.
Aside from their failure to walk down the aisle, Karmin's 2012 has been quite successful. Asked to name the highlights of the year, Nick says performing on Saturday Night Live in February -- before they'd even released an album -- was major. For Amy, it was appearing on the back cover of Rolling Stone magazine, after they won a fan-voted contest. "[That] was a huge milestone for us," she says.
Now, the duo will ring in 2013 by performing on Dick Clark's New Year's Rockin' Eve with Ryan Seacrest, which airs on ABC Monday night. It's another huge milestone, says Nick, adding, "That's actually, really, a really, really big deal and it's very, very cool for us to be able to have that opportunity, I think, especially at this point in our career."
Amy says she's thrilled to appear on a show she grew up watching as a kid in Nebraska. "New Year's for us in Nebraska is not really that glamorous," she tells ABC News Radio. "So, Dick Clark's Rockin' Eve was always like a portal to another world that we had never seen. I didn't get to see the big city until college. So, you can imagine me wide-eyed, this little girl in Nebraska just watching this huge festivity on TV."
Noting that this will be the first installment of the legendary show since Dick Clark's passing, Amy adds, "We're just honored to be invited this year, and, unfortunately Dick's not here with us, but...I think it'll be a great celebration of his life."
Copyright 2012 ABC News Radio