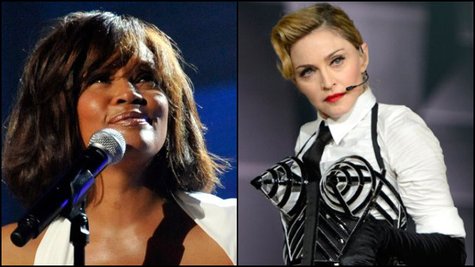 2012 saw one female music icon of the '80s fall, in one of music's most tragic losses, while another proved that she truly is, now and forever, the Queen of Pop...and controversy.
It seemed that 2012 was going to be Whitney Houston's comeback year. The Grammy Award-winning singer, whose struggles with substance abuse often overshadowed her musical accomplishments, had been gearing up to promote Sparkle , the movie remake in which she'd starred alongside Jordin Sparks . Unfortunately, it was not to be.
In February, Houston traveled to Los Angeles, where she was scheduled to perform at her mentor Clive Davis ' annual pre-Grammy party. But hours before the event, news came that Whitney had been discovered unresponsive in the water-filled bathtub of her Beverly Hilton hotel room. The most-awarded female music artist of all time was dead at the age of 48. A coroner's report later would reveal the singer's official cause of death as drowning aggravated by a pre-existing heart condition called atherosclerotic heart disease. Cocaine and other drugs were found in her system, but they were not found to have contributed to her death.
At the Grammy Awards show, the loss of Whitney loomed large. Show host LL Cool J shared a heartfelt prayer in memory of the singer at the top of the awards broadcast, and Jennifer Hudson delivered a stirring performance of "I Will Always Love You" late in the show, working hard to maintain her composure as she sang.
The outpouring of love continued with Whitney's funeral -- a "home going celebration" at the New Hope Baptist Church in Newark, N.J., where Whitney sang in the choir as a youngster. Whitney's The Bodyguard co-star Kevin Costner spoke of their long friendship, and Alicia Keys , Stevie Wonder , R. Kelly and more performed musical tributes to their dear friend. Whitney's songs and albums re-entered the charts, becoming hits all over again.
Meanwhile, Madonna kicked off one of her busiest years ever. 2012 got underway with the icon scoring a Golden Globe for Best Original Song for "Masterpiece," the song she'd co-written for W.E. , a movie she directed. Next came one of the most high-profile appearances of her entire career: playing halftime at the Super Bowl. Her brief set was the most-watched Super Bowl halftime show in history, drawing 114 million viewers, more than watched the game itself. She scored her 38th top 10 hit with "Give Me All Your Luvin'," and the new album that followed, MDNA, debuted at #1 on the Billboard chart.
While she did take time off to launch her first-ever fragrance, Truth or Dare, as well as a designer shoe collection, most of Madonna's year was taken up by her MDNA world tour. The tour itself was rife with controversy, as the star made headlines for everything from her on-stage speechifying -- on topics ranging from the election, to gay rights, to support for the Russian punk band Pussy Riot -- to her penchant for flashing various parts of her body, including her nipple, onstage. Despite the fuss, the MDNA tour was #1 tour of the year, according to Billboard , raking in over $228 million over 72 sold-out shows.
Madonna also found herself embroiled in a few feuds in 2012, one involving her frenemy, Sir Elton John , who dissed her prior to the Golden Globes and later announced that her tour was "a disaster," her career was "over," and she looked like a "fairground stripper." He also complained that she'd been "horrible" to his friend Lady Gaga .
He may have had a point there: early in the year, Madonna gave several interviews in which she appeared to be less than enthusiastic about Gaga's hit "Born This Way," implying that it was a little bit too similar to her own hit, "Express Yourself." She then hammered the point home by performing a mash-up of the two songs on the MDNA tour; each night after the mashup, she'd repeat the title of one of her other songs: "She's Not Me." During an October appearance on The Ellen DeGeneres Show, when Ellen demanded to know what Madonna thought of Gaga, she would only admit, "Nice voice."
Copyright 2012 ABC News Radio