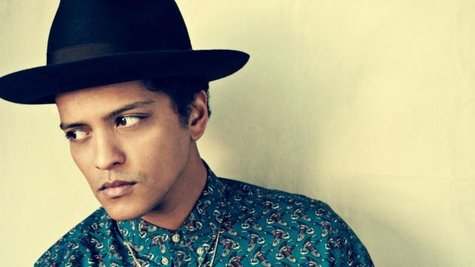 Bruno Mars is still alive and kicking, despite the Internet's efforts to kill him off. On Sunday, a fake news story emerged that the singer had been killed in a car crash. How do we know it's fake? Because that originating website allows people to enter a celebrity's name into a generator, and then creates a story about their supposed demise. The exact same news story has supposedly killed off Kobe Bryant , Jerry Springer and various rappers in recent months.
Here's another big clue that the story's fake: a message on the bottom of the site actually says, "FAKE...THIS STORY IS 100% FAKE!" However, that didn't stop Bruno fans from tweeting their dismay at the singer's death.
The very much alive Bruno, meanwhile, has been busy tweeting his thanks to fans for their support of his new album, Unorthodox Jukebox , and his #1 hit "Locked Out of Heaven."
"Everyone who picked up unorthodox jukebox I cant thank you enough. Im bringing in the new Year with the #1 Song in the country because of u," Bruno wrote. "Ive been overwhelmed with the great news with this album and i hope you guys know how grateful i am. I cant wait to sing for y'all."
Copyright 2012 ABC News Radio