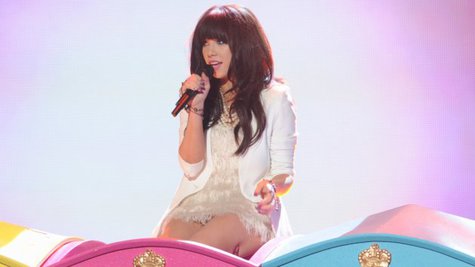 Clearly, Carly Rae Jepsen had a great year. In the past 12 months, she became a global star, saw her song hit #1 and stay there for nine weeks, received two Grammy nominations and won a couple of major awards. Now, she's closing out 2012 with one of the most prestigious gigs you can get on December 31: performing live in New York City's Times Square on ABC's Dick Clark New Year's Rockin' Eve with Ryan Seacrest .
Carly will join Taylor Swift and South Korean rapper PSY onstage Monday night as Ryan Seacrest ushers in 2013. As Carly notes, this isn't her first trip to Times Square on New Year's Eve, but it'll be her most exciting one.
"I was lucky enough to be there once before," she tells ABC News Radio, "but it was kind of in the mesh of crowds, of scarves and blankets. And, doing the countdown, it'll be a whole new experience to be there performing and getting to take it in in a different way."
In 2013, Carly will continue her tour with Justin Bieber , but she's also prepping some New Year's resolutions. "I'm constantly thinking of New Year's resolutions, even when it's not new year," she laughs. "So, yes, definitely, I have some things on my list that I wanna get better at." Like, for example? "I'm always late, I find," she tells ABC News Radio. "I wear a watch because I think it's pretty, which isn't necessarily its function. So, I have to get better at that!"
Copyright 2012 ABC News Radio