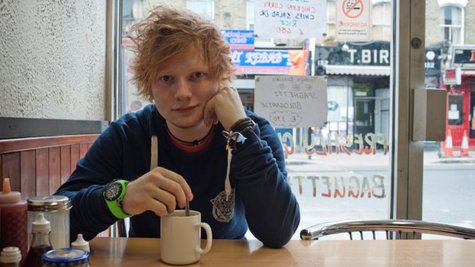 After Taylor Swift announced that she was working with British singer/songwriter Ed Sheeran on her album Red, many people wondered if the two were romantically involved. It turns out that they aren't, and that's okay -- Ed says he never would have had a chance with Taylor anyway.
The British paper The Sun quotes Ed as saying, "We had great fun when we met. But I don't think I'm Taylor's type." He explains, "If you look at all the dudes she's dated, they're all tall, brown hair, brown eyes, very attractive and all the girls scream for them."
Hmm, let's see... Joe Jonas , John Mayer , Conor Kennedy , Taylor Lautner , Jake Gyllenhaal , Harry Styles ...yep, sounds about right. Well, O.K., Taylor Lautner isn't exactly tall, but still.
Whereas, Ed points out, , "I'm chubby, [red-haired] with blue eyes."
Even if Ed isn't dating Taylor, hanging out with her worked out pretty well for him. After all, he landed the opening slot on her upcoming tour, and he'll earn plenty of royalties for co-writing their Red duet, "Everything Has Changed."
Copyright 2012 ABC News Radio