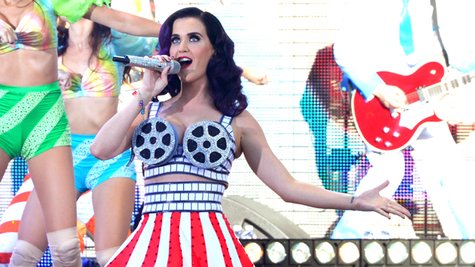 On the next-to-last day of 2011, Katy Perry's world came crashing down when her husband, Russell Brand , filed for divorce after 14 months of marriage. But Katy spent 2012 bouncing back, big time.
Even though technically 2011 was Katy's big career year, she never went away in 2012, appearing everywhere to promote two projects: the re-release of her album Teenage Dream with extra tracks -- a package called The Complete Confection -- and her 3D concert film, Katy Perry: Part of Me . The Complete Confection spun off two massive hits: "Part of Me," which she performed on the Grammys in February, and "Wide Awake."
"Part of Me" became only the 20th song ever to debut at #1 on the Billboard Hot 100. Its message of post-breakup self-empowerment had many thinking it was written in response to Katy's split with Brand, but she denied it, saying it had been written in early 2010. "Wide Awake," meanwhile, was specifically written for Katy's movie, and is generally assumed to be about her split with Brand. It reached #2. Both songs came complete with big-budget, high-concept videos, which Katy promoted with MTV sit-down interviews.
In May, Katy received the Spotlight Award at the Billboard Music Awards; in November, the magazine presented her with its Woman of the Year award. She was also named Favorite Female Pop/Rock Artist at the American Music Awards in November and received a Grammy nod for "Wide Awake." Meanwhile, her movie Part of Me grossed over $32 million worldwide and was generally well-reviewed. A scene in which Katy is shown backstage breaking down emotionally after what appears to be a communication from Brand, and then then putting on her game face and hitting the stage for a concert, was a standout. Katy also took her second foray into TV scripted comedy by guest-starring on her best friend Shannon Woodward's sitcom, Raising Hope.
Katy's divorce from Brand was granted in February but it didn't become official until July. By then, there were already reports that she'd become involved with John Mayer . After a few weeks of the two being spotted together, they reportedly broke up, and then got back together again. They've since been spotted together numerous times -- at parties, at concerts, at restaurants, at a clubs and even at a tourist attraction in Katy's hometown of Santa Barbara, California -- but they really took their romance public in December. That's when the two, along with John's dad, went out on the town in New York City, happily posing for photographers at a Broadway musical. They were also photographed cuddling at a Rolling Stones concert, and on Christmas, Katy tweeted a photo of John dressed as Santa Claus, with the caption "Santa Baby." Let's hope this romance doesn't end in tears.
Copyright 2012 ABC News Radio