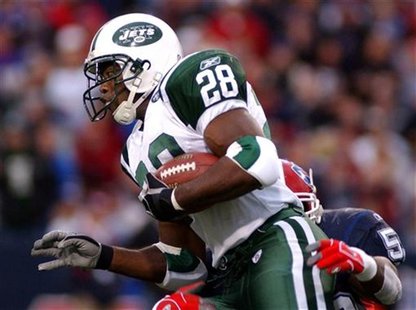 By Larry Fine
INDIANAPOLIS (Reuters) - Curtis Martin, who ranks fourth on the National Football League's all-time rushing list, was one of six players elected into the Pro Football Hall of Fame Saturday.
Martin, who played for the Patriots and Jets, was joined by center Dermontti Dawson of the Steelers, defensive end Chris Dolman of the Vikings, Falcons and 49ers, defensive tackle Cortez Kennedy of the Seahawks, tackle Willie Roaf of the Chiefs and cornerback Jack Butler of the Steelers.
The ceremony will take place in Canton, Ohio on Aug, 4 and bring the total number enshrined at the Hall to 273.
Those honored received 80 percent of votes from the 44 members of the Hall of Fame selection committee after the list of 17 finalists had been whittled down to 10 and again to five among the modern players.
Butler, who played from 1951-1959, was the only old-timer elected this year.
Martin gained 14,101 yards in his 11-year career, gaining more than 1,000 yards in each of his first 10 seasons.
Among those missing out were wide receivers Andre Reed and Cris Carter, and former San Francisco 49ers owner Edward DeBartolo Jr.
Also missing out was former coach Bill Parcells, who steered the New York Giants to two Super Bowl titles and took the Patriots to a Super Bowl.
Parcells drafted Martin during his days with the Patriots and also coached him with the New York Jets.
"The bittersweet part about it is that Parcells has meant so much to my career. Without him my career would have been 30 percent," Martin said in a conference call to the Hall of Fame announcement ceremony.
"He taught me how to be a professional, but he also had a lot to do with teaching about being a man."
Dolman retired as the NFL's fourth-ranked sack leader with 150.5 sacks, logging double digit sack totals in eight different seasons.
"I'm just totally blown away by this," Dolman said in a conference call. "It's just a big surprise,"
Kennedy, the third overall pick of the 1990 NFL Draft, became a fixture at defensive tackle for the Seahawks, playing his entire 11-year career in Seattle. In 1992 he was named Defensive Player of the Year and made eight Pro Bowl teams.
Roaf was named to 11 Pro Bowl teams in his 13 seasons after being taken as the eighth player overall in the 1993 draft by New Orleans.
Dawson, a second-round draft pick by the Pittsburgh Steelers in 1988, earned six consecutive All-NFL honors from 1993. He started in three AFC title games and was Pittsburgh' starting center in Super Bowl 30 against the Dallas Cowboys.
Butler ranked as the NFL's second all-time interceptions leader when he retired after the 1959 season.
(Editing by Greg Stutchbury)