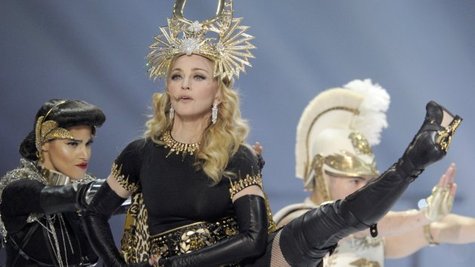 Right before the Super Bowl, Girls Gone Wild creator Joe Francis allegedly sent Madonna a cease and desist letter, saying he'd sue if she performed her new song "Girls Gone Wild" song at the event. She didn't, and when the new song was released on Monday, the title had been changed to "Girl Gone Wild." Coincidence? Yes, according to Madonna's manager, Guy Oseary.
Oseary tells TMZ that despite reports, Madonna didn't change the title of "Girls Gone Wild" to "Girl Gone Wild" because of Francis. Oseary says no one from Madonna's team ever received Francis' alleged letter. In fact, he says Madonna has no idea who Francis is, and wasn't even aware of his threats.
So why the title change? Oseary explains that it was all just part of a series of tweaks to the star's upcoming album, MDNA , and they decided to change it from "girls" to "girl" because that's what Madonna sings in the chorus. Oseary also pointed out that Francis can't own the rights to the phrase anyway, since there are at least 50 other songs called "Girls Gone Wild."
Copyright 2012 ABC News Radio