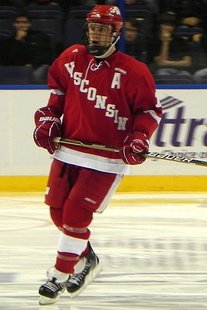 MANKATO, Minn. (WSAU) - The Wisconsin men's hockey team kept firing at the goal, but they were shooting blanks at Minnesota State-Mankato Saturday.
After shutting out the Mavericks Friday night, the Badgers were blanked 3-0 Saturday despite taking 32 shots on goal. The loss drops the Badgers back down to the .500 mark at 10-10-2 overall, including 5-9-2 in the WCHA. They lost for the sixth time in eight road games.
Badger Mike Zengerle was held without a point, ending his scoring streak at 20 games in a row, one short of the school record.