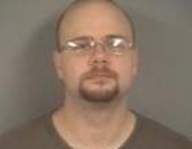 GRAND RAPIDS, Wis. (WSAU) – Police have suspended their search for the night for a 29-year-old Grand Rapids man who was last seen early yesterday.
More than 30 people searched on foot today for Greg Senn but did not find him, said Grand Rapids police Chief Dave Lewandowski. A DNR pilot also flew over parts of Wood County with an infrared sensor but did not detect any sign of Senn.
Police will use a bloodhound when they resume their search in the morning. Lewandowski says the dog can sniff out a scent through snow – about 1 to 3 inches of snow could fall in the area this evening.
Senn was last seen about 5 a.m. Sunday walking along Highway U toward Wisconsin Rapids. He never made it home.
Senn is white, 5-foot-10, with dark hair, brown eyes and glasses. He was wearing jeans and a black jacket. Anyone with information should call the Wood County sheriff's department at 715-421-8700.