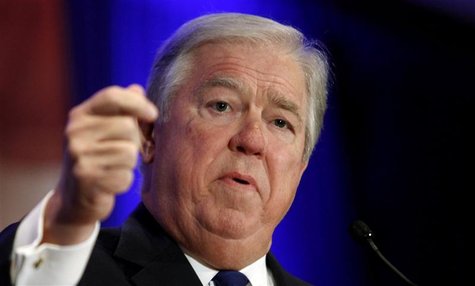 WASHINGTON (Reuters) - Former Mississippi Governor Haley Barbour on Sunday blamed political opponents for much of the uproar set off after he pardoned more than 200 criminals.
State leaders often issue pardons in their waning days in office but the number of pardons by Barbour as he finished his term as governor on January 10 was unusually high.
The pardons, which included some convicted murderers, set off a firestorm of criticism.
State Attorney General Jim Hood, the only Democrat serving in statewide office in Mississippi, argued that more than three-quarters of those pardoned did not meet state criteria and others questioned the racial makeup of the group.
Barbour's successor, Phil Bryant, proposed changes in the pardon process and a state judge has blocked release of pardoned prisoners, issuing an injunction at Hood's request. A hearing on the issue is scheduled for Monday.
In an appearance on CBS's "Face the Nation" program Sunday, Barbour, a Republican, said his pardons had been misrepresented.
"Sure, we could have done it better because we had no idea that the reporting of it, in particular some of the misstatements by political opponents, would let the public think we were letting 200 some people out of the penitentiary," he said. "We let 26 out of the penitentiary ... half of them for health reasons.
"Most of them had been out for years and years and years. They're no more a threat to the people of Mississippi now than they were the week before they got their pardon."
In response to the pardons, Hood filed a complaint alleging that 156 of them were unconstitutional because not enough public notice had been given.
Barbour cited Hood in the controversy over the pardons.
"It is becoming public now that the attorney general's office was very involved in this," he said.
Barbour, a former Republican National Committee chairman, visited early primary states, but said in April 2011 that he would not run for U.S. president in the 2012 election.
Barbour granted 222 acts of clemency in his tenure to 221 individuals: one convict's sentence was initially suspended in 2008 and he then received a full pardon. All but eight came in the final days of his tenure.
The pardons also have come under scrutiny on racial grounds.
About two-thirds of the pardons went to current or former white prisoners, while Mississippi's population is about 59 percent white and two-thirds of its prison population is black. Barbour has said through a spokesperson that race played no factor in the decisions.
(Writing by Bill Trott and David Bailey; Editing by Jackie Frank and Tim Gaynor)