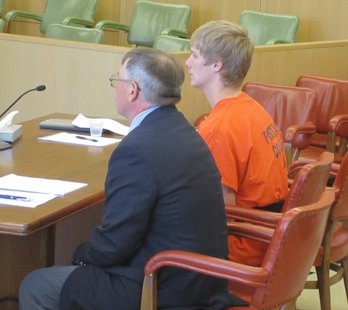 STEVENS POINT, Wis. (WSAU) – A Bancroft man charged with killing his girlfriend's aunt and stabbing her dad and his brother in May testified Thursday that he acted in self defense.
"I didn't know if I was going to get out of the situation," Tyler Dahms said during nearly two hours of testimony this morning as he sat in a long-sleeved black dress shirt and khakis. "I was scared."
The defense rested its case after calling Dahms as its final witness. Prosecutors did not call any rebuttal witnesses.
Attorneys on both sides planned to finalize jury instructions with Judge Frederic Fleishauer this afternoon. Closing arguments are scheduled for Friday morning.
A jury of 10 women and four men has heard the trial since it began Monday. Fleishauer will excuse two alternates before a panel of 12 deliberates Dahms' fate.
Dahms is charged with first-degree intentional homicide for killing Karen Dombrowski and two counts of attempted homicide for stabbing her husband Michael and his brother Ken. He is also charged with breaking into the Stockton town hall and Wander Inn Bar in Amherst, causing damage in both buildings and stealing alcohol from the bar.
Fleishauer is presiding over the trial as a reserve judge. He began hearing the case before he retired in November.
Dahms testified that he swore at and raised his middle finger to Karen Dombrowski, her husband Michael and his brother Ken after the three had kicked him off of their land in the town of New Hope. Dahms had been drinking with friends prior to the fight.
"They [the Dombrowskis] were screaming profanities and swinging at me the whole I time was going toward the road," Dahms testified. "I was scared and confused and didn't realize swearing at someone could make them that violent."
Defense attorney Anne Renc showed jurors pictures of scrapes and bruises on Dahms' neck and back that he says he got in the fight. She also held up a torn t-shirt that Dahms said one of the Dombrowskis ripped off of him during the fight.
Dahms left the property but later returned to get his truck. The Dombrowskis ran toward him and Michael threatened to kill him, Dahms testified.
Dahms, who had grabbed a hunting knife from the center console of his truck, said, "I just started stabbing him." Dahms confessed to stabbing the two others Dombrowskis, including Karen, who died at the scene.
Prosecutors relied on written transcripts during their cross examination to point out inconsistent statements Dahms gave to police during two interviews after his arrest.
Assistant district attorney David Knaapen asked Dahms why he did not take his spare truck keys and drive off, avoiding the second conflict. The keys lay next to the hunting knife in the center console.
"I should have just grabbed that and got out of there," Dahms admitted.
"I don't have a clue or why it happened," Dahms later told his boss, whose house he drove to after the stabbing and where police arrested him.