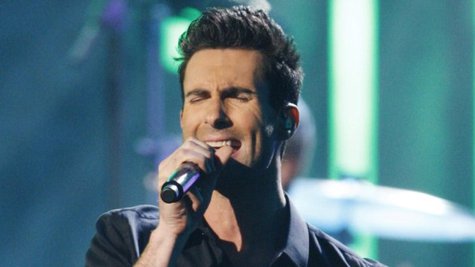 Maroon 5' s Adam Levine may sing about having moves like iconic Rolling Stones frontman Mick Jagger , but he says in real life, unlike Mick, he's not really much of a dancing machine onstage. "I don't dance; I just move," he tells People magazine. "There's a difference. I do this weird, spastic, slightly rhythmic, all-over-the-place kind of thing." As he puts it, "I'm more of a rambunctious child onstage than a dancer."
That doesn't take away from Adam's love for his band's Grammy-nominated collaboration with Christina Aguilera . "It's exciting to be part of a song that has such an impact," he tells People.
By the way, if the band does win a Grammy this year, they won't be going to their regular haunt to celebrate. Adam, whose brother is gay, tells People , "We used to go to this Mexican restaurant to celebrate after the Grammys. But the place supported the movement to make gay marriage illegal [in California], so we bailed on that."
Adam refers to the fact that in 2008, the manager of the restaurant, El Coyote, donated $100 to the so-called anti-gay-marriage initiative. As a result, the restaurant itself ended up on a list of businesses supporting the ban, and was boycotted by gay activists.
Copyright 2012 ABC News Radio