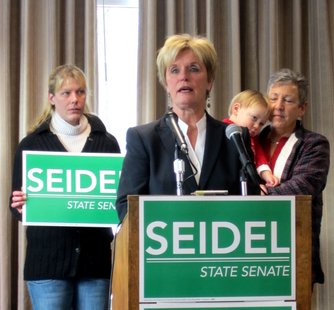 WAUSAU, Wis. (WSAU) – Democratic state Representative Donna Seidel will challenge Republican state Senator Pam Galloway in a recall election this year.
Seidel told a roomful of supporters at UW-Marathon County that she will make jobs, education and health care the top three issues of her campaign.
"This is an opportunity I did not seek," Seidel said though she added that "we cannot wait three more years to stop what is going on."
Republicans criticized Seidel for creating government spending and massive deficits.
"The last time Senator Galloway's opponent was in charge of our state budget, Wisconsin was left with a $3.6 billion deficit," Galloway's campaign said in a statement.
"The choice is clear for Wisconsin voters – do we want to continue moving forward under fiscally responsible leadership or do we want to return the state to the days of deficits, layoffs and crony partisan politics?" state Republican Party spokesman Ben Sparks said.
Democrats have targeted Galloway, a freshman lawmaker from Wausau, for recall in part for her vote last year to limit collective bargaining rights for most public union employees.
Organizers turned in more than 21,000 petition signatures to the state Government Accountability Board this month demanding Galloway face recall. The board has 60 days to verify whether there are 15,647 valid signatures to order the election.
Marathon County Democratic Party chair Jeff Johnson announced January 12th that he would also challenge Galloway. But Johnson confirmed Tuesday that he would step aside now that Seidel is running.
"Donna certainly should be the unchallenged Democratic standard bearer for this race. I believe she's our strongest candidate," he said.
Johnson added that he will run for Seidel's seat in the Assembly this fall if she wins the Senate recall.