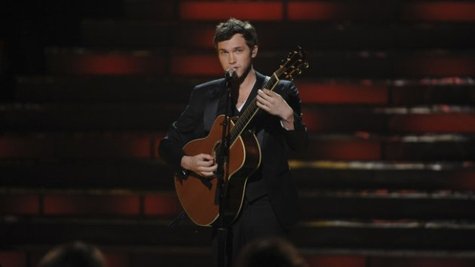 Like the character that legendary TV actor Andy Griffith portrayed on The Andy Griffith Show , many American Idol stars come from small Southern towns, so it's no surprise they feel a connection to Griffith, who died Tuesday at the age of 86.
After hearing of Griffith's death, reigning American Idol champ Phillip Phillips tweeted , "Cant believe Andy Griffith passed away today. Loved his show. Prayers go out to the family. Use to watch it all the time with my papa."
Last year's champ, Scotty McCreery , tweeted , "RIP Andy Griffith.. We lost a legend today that provided me and my family some great quality time around the tv filled with some good laughs."
Another American Idol alum, Chris Daughtry, chimed in, writing , " Have fun in Heaven Mr. Griffith!! You have left so many of us with great memories!!! You will be missed."
Other musicians also offered their condolences. Rob Thomas of Matchbox Twenty tweeted, "just found out the ANDY GRIFFITH passed away. an american treasure. if you can, give a little whistle for him today."
Lady Antebellum's Hillary Scott tweeted , "Heaven gained a talented man today. Mr. Andy Griffith, thanks for giving me amazing memories with my family growing up watching your show!"
Nathan Followill of Kings of Leon tweeted , "RIP Andy Griffith. One of my favorite tv actors of all time. I can hear him whistling the theme song all the way to the pearly gates."
Copyright 2012 ABC News Radio