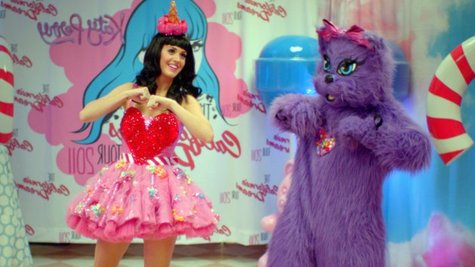 On Tuesday, Katy Perry made history when she hosted Skype's first fan-led international chat reports the International Business Times . "We're gonna shut the Internet down!" Katy exclaimed while wearing a confection-themed dress complete with a cherry on top.
While in London to promote her 3D movie Katy Perry: Part of Me , Katy broke new ground with the live interview event by answering 10 questions from 10 of her biggest fans via Skype about her documentary which opens on July 5.
At the time of the call, the lucky fans were located in Brazil, Germany, England, Italy, Norway, and Finland. During the interview, Katy talked about such topics as what it took to bring her dreams to life and the super power she'd love to have.
"In a very strange way, I have always believed I could make my dreams come true," Katy said during the chat, adding that her journey has been about hard work, ambition and drive. She said, "I see the world as my oyster, I can make things come to reality if I want. In history you see it, so why can't you do it for you?"
As for those super powers, initially Katy opted for the ability to use an invisible cloak for her Starbucks runs, but then decided she could do better. "I don't wanna be selfish with one wish. If I got one wish I'd ask for a million wishes!" Katy says.
The singer partnered with distributor Paramount Pictures and MSN to conduct the fan event.
Copyright 2012 ABC News Radio