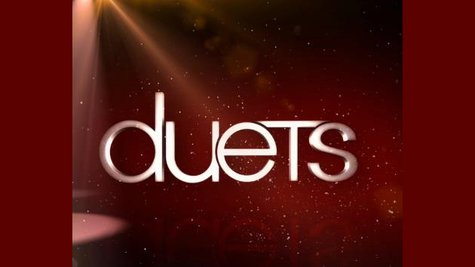 ABC's Duets narrowed the field down to four Thursday night, eliminating Olivia Chisholm . She was Robin Thicke 's lone amateur in the competition, after he lost Alexis Foster earlier in the season.
After the results of the viewers' vote were announced, the final four performed standards. Of course, mentors Kelly Clarkson , Jennifer Nettles and John Legend also took the stage, while Robin was a spectator. Here's a rundown of the performances:
-- Bridget Carrington , who had fallen into the bottom two with Chisholm, was joined by John on Nat King Cole 's "Unforgettable." Kelly said it was her favorite performance by Bridget thus far. Robin praised John and encouraged him to remake the song. Jennifer liked what she heard from Bridget.
-- J. Rome partnered with Jennifer for a rendition of Billie Holiday 's "God Bless the Child." Kelly gushed that Rome's performance was worthy of an awards show. John said Rome "murdered" it -- he meant that in a good way -- and Robin added that Rome deserved a Grammy for his singing.
-- Jennifer returned to the stage, this time with John Glosson for a duet of "Georgia on My Mind" by Ray Charles -- a nod to Glosson's native state. Robin said the song was perfect for Glosson's voice. Kelly noted that she couldn't hear Glosson too well, possibly because his microphone was low. After saying Glosson was too "syrupy" last week, John said the bespectacled contestant had the "perfect amount of syrup" this time around.
-- Jason Farol and Kelly closed the show with "Feeling Good," a song recorded in the past by artists including Nina Simone and Michael Bublé . John and Jennifer both said they were impressed by Jason's improvement. Robin, however, thought the performance was missing some soul.
The mentors teamed up for two duets of their own: Jennifer and Robin on Queen 's "Crazy Little Thing Called Love," and Kelly and John on Ray Charles' "You Don't Know Me."
ABC's Duets continues next Thursday night.
Copyright 2012 ABC News Radio