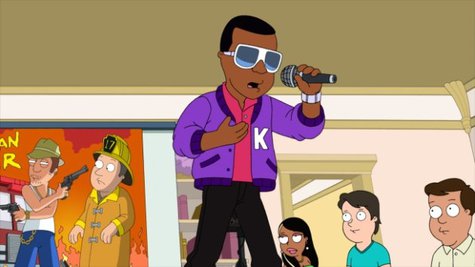 You can't be a hip-hop mega-star these days without someone linking you to the all-powerful Illuminati. Just ask Kanye West and Nicki Minaj , who along with Bruno Mars , Questlove and will.i.am poke fun at the conspiracy theorists on a very special episode of The Cleveland Show , titled Menace II Secret Society .
A recently released poster for the highly anticipated season-opener features animated versions of Kanye, Nicki, Bruno, Quest and will.i.am, all of whom will be voicing themselves on The Cleveland Show episode. On the show, the stars reportedly are all part of the "rap Illuminati," a secret sect of artists who control pop culture.
If you're wondering how The Cleveland Show creators are tying some of music's biggest names into the show, executive producer Rich Appel reportedly explains the plot, saying "Cleveland inadvertently breaks into [the rap Illuminati] and then it's how he will either bring them down or they'll bring him down."
Perhaps the coolest part about having Kanye on the show is that he'll be unleashing some original songs. Bruno Mars and will.i.am do the same, Appel reportedly said.

The new season of The Cleveland Show premieres October 7 on Fox.
Copyright 2012 ABC News Radio