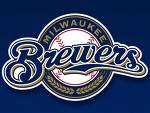 MILWAUKEE, WI (WSAU) Tyler Thornburg will return to the Brewers. The right-hander is one of Milwaukee's top pitching prospects, and he was called up yesterday from Triple-"A" Nashville. Reliever Tim Dillard outrighted to Nashville.
Thornburg made an emergency start for Milwaukee on June 19th against Toronto – and while he gave up four homers in five-and-a-third innings, he has shown tremendous promise in the minors.
Dillard is 0-and-2 for Milwaukee this season with a four-point-three-eight E-R-A in 34 relief appearances. He gave up 45 hits and 14 walks in 37 innings. He'll have 72 hours to decide whether he wants to accept the minor league assignment, or become a free agent.
Brewers' G-M Doug Melvin tells the Journal Sentinel that Thornburg will be used in the bullpen for now, and get some occasional starts so he can get some big league experience. Thornburg plans to join the Brewers in time for their next game on Friday night at home against Pittsburgh.
Also today, the Brewers announced the promotion of infielder Jeff Bianchi (yan-kee) from Triple-"A" Nashville. He spilled the beans on his social media feed Tuesdaynight. Bianchi takes the spot held by Taylor Green before he was sent down. This will be the 25-year-old Bianchi's first Major League assignment.