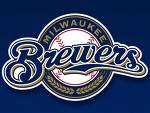 MILWAUKEE, WI (WSAU) The Brewers went 4-and-5 in a stretch of must-win games against the three teams above them in the National League Central. Now, the speculation is growing about Milwaukee dealing stars-for-prospects, with the trade deadline looming a week from tomorrow.
The latest rumor has third baseman Aramis Ramirez going to the Los Angeles Dodgers. The veteran just signed a three-year contract with Milwaukee last season, but he has no protection against a trade. Ramirez says he's been dealt before, so he knows how things go. And as he put it, "I can't let that bother me at all." After a slow start, Ramirez is batting .274 with 10 homers and 54 R-B-I's. And with 30 doubles, he's on pace to break Lyle Overbay's Brewer record of 53 two-baggers in 2004. Also, Ramirez has not made an error at third base since May 15th.
Speculation is also expected to keep growing about a contender getting right-hander Zack Greinke, who will start tomorrow night at Philadelphia. Closer Francisco Rodriguez is also mentioned as a possible trade candidate.