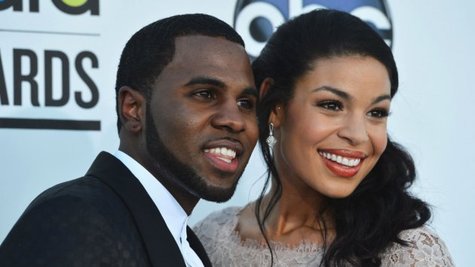 How close are Jordin Sparks and her boyfriend Jason Derulo ? Close enough that Jordin says she doesn't care if she looks like a hot mess in front of him, even at the gym.
Speaking to AOL Music , Jordin says that sometimes Jason "drags" her to the gym when she's not motivated, and says, "It brings us closer together, because I'm totally comfortable being completely sweaty and disgusting in front of him, which I might not have been able to say a couple years ago." She adds, "He makes me feel more comfortable and more confident." There's another bonus to working out with Jason: she gets to look at his buff bod. "I'm definitely entertained!" she raves.
Jordin, who has dropped 50 pounds over the past couple of years, says she maintains her slim silhouette by doing circuit training and running. If she can't get to the gym, she works out on her own, with an elastic band. "It works your butt, your legs, your core, everything. I can just do that in my hotel room," she advises. She also does pushups, situps and tricep dips in her room, using her own body weight.
As for her diet, the singer and star of the upcoming movie Sparkle tells AOL Music that she chows down on Greek yogurt, granola or eggs for breakfast, but avoids carbs in the afternoon and evening, sticking to arugula salad with grilled chicken and lemon vinaigrette. "I'm obsessed!" she admits, but adds that she never deprives herself. "Food is meant to be enjoyed. It's one of the best things in the world," she says.
Copyright 2012 ABC News Radio