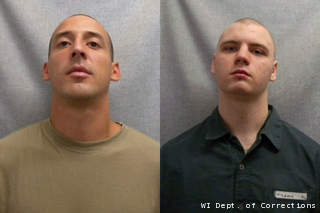 BROWARD COUNTY, FL (WTAQ) - Two Wisconsin prison escapees remain in a Florida jail, after an extradition hearing scheduled Monday was delayed until Thursday.
Prosecutors in Broward County Florida said there were not enough officers available to escort James Misleveck and James Newman from their cells to a courtroom – so the hearing was re-set.
Both men walked away from a state prison boot camp at Black River Falls two weeks ago Monday. Authorities said they then went on a crime spree in Jackson and Monroe counties in which they stole 4 vehicles, kidnapped a casino worker, and led officers on a chase and a manhunt.
Misleveck's father was arrested the next day near Elroy, after officers who were looking for Misleveck found that his dad was reportedly growing marijuana in his home.
Meanwhile, the two escapees went to Florida, where officials said the robbed a convenience store and beat a 71-year-old store clerk. They were arrested in Hollywood Florida last Wednesday, but not before one final chase.
Misleveck and Newman were about to be released from the boot camp this summer. But now, they face a host of charges in both Wisconsin and Florida – plus federal weapons charges for stealing a shotgun from a vehicle near the Black River Falls prison.