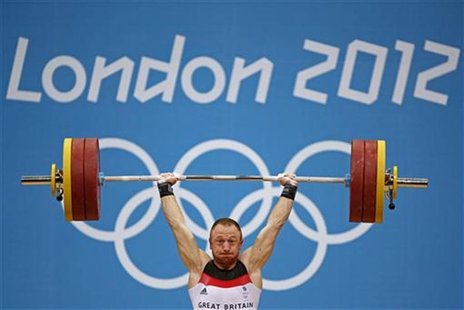 LONDON (Reuters) - Just 50 meters separate London's Olympic weightlifting arena from the exit at the Excel arena yet it took Briton Gareth Evans more than an hour to walk it on Tuesday.
With children queuing up for autographs and grandmothers insisting he pose for photographs, a passer-by might have imagined the diminutive Welshman had just won gold.
In fact, he finished next to last in the B group of athletes not expected to challenge for medals.
"I've come out, got mobbed and it's taken me nearly an hour to get out. The crowd were absolutely fantastic too and I managed to entertain them," Evans told Reuters as he met his new-found fans.
Inside the arena, Evans had emerged to a rapturous reception from a partisan British crowd decked out in flags and facepaint, and proceeded to ramp up the atmosphere, urging on the cheers as he approached the barbell for his final lift.
His two best lifts totaled a personal best 288 kilograms, but were well off the medal pace with the top athletes yet to lift.
"Hey, if it's made one little lad want to do weightlifting, then mission accomplished, because the Olympics Games has inspired me," he said.
(Reporting by Padraic Halpin and William James; editing by Jason Neely)