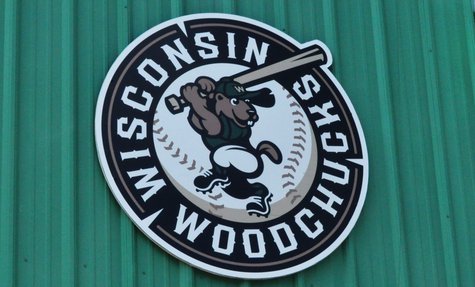 WAUSAU, Wis (Woodchucks-WSAU) After Monday night's "slop fest," with a combined eight errors, the Wisconsin Woodchucks looked to capitalize with their second win against the Madison Mallards, and regain the number one spot in the Northwoods League South Division Tuesday night at Athletic Park. The Woodchucks shut out the Mallards, 4-0.
The Woodchucks wasted no time, going to work right away in the first inning with Brooks Braga's triple to put a runner in scoring position early. Gage Green took the first pitch, and batted in Braga with a RBI single to give the 'Chucks an early 1-0 lead.
In the bottom of the 2nd inning, the Woodchucks struck again with a RBI from Jake Jelmini, scoring Skyler Ewing on a one out groundout. The score at the end of two was 2-0.
The Woodchucks in the bottom of the 5th had another opportunity to gain some insurance runs, but stranded runners with bases loaded and only one out.
The game remained the same until the 'Chucks broke it open with center fielder Brooks Braga, who went 3 for 3 with a triple and two doubles, and had two RBI's in Tuesday nights game. The Woodchucks led 3-0.
This game was all Woodchucks, scoring a fourth run in the bottom of the 8th inning when Jake Jelmini got on with an error by the outfielder, scoring catcher Levi Meyer.
With a 4-0 lead in the top of the 9th inning, pither Max Ising came in and struck out the side to end a game that had Woodchucks written all over it. The Chuck's would take the "W" 4-0.
Catch more Woodchucks action Wednesday against the Wisconsin Rapids Rafters in Wisconsin Rapids. The game is on Fox Sports 1390 starting at 6:20pm CT.
Rest Of NWL Scores
La Crosse 3 Lakeshore 2
Battle Creek 9 Eau Claire 5
Green Bay 9 Wisconsin Rapids 3
Waterloo 13 Rochester 3
Duluth 2 Willmar 1
Thunder Bay 4 St. Cloud 3
Alexandria 10 Mankato 2