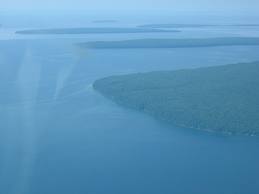 SUPERIOR, Wis. (WSAU) - Alarming news for homeowners who spend their summers on the Apostle Islands. The Bad River Bank of Lake Superior Chippewa say they consider the island sacred.
That same island also has high-priced summer homes sitting on it when hundreds of visitors come each summer. In many cases, the locations have been leased from the tribe for decades. It's possible those leases won't be renewed when they run out in the next five years.
The chairman of the tribe tells Wisconsin Public Radio he'd like to see the reservation land reclaimed for tribal members. A tribal-relations committee has been formed recently, with locals hoping both sides will keep the lines of communication open.