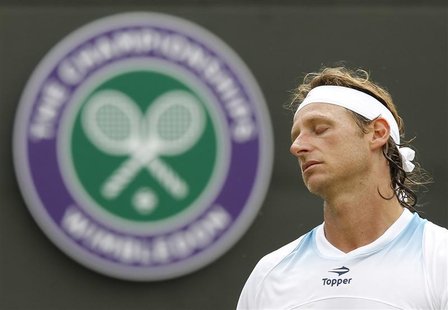 By Paul Majendie
LONDON (Reuters) - Fiery Argentine David Nalbandian let his tennis, not his temper do the talking at Wimbledon on Monday - but it was to no avail for the new villain in the tennis hall of infamy.
Nalbandian, who was disqualified from the Queen's Club final eight days ago for injuring a line judge, folded 6-4 7-6 6-2 against Serbian eighth seed Janko Tipsarevic in the first round at Wimbledon on Monday.
The Argentine, who reached the Wimbledon final at his first attempt 10 years ago, had a brief spat with the umpire over a disputed line call when trying to break back in the second set against Tipsarevic. But the fireworks were a damp squib compared to his fury at Queen's.
In fact his only argument of the day fired Nalbandian into drawing level, only to lose the tiebreak and slump two sets down.
Though clearly aggravated by the disputed line call row, Nalbandian was the first to admit the right man won.
"You have to play better in the important moments. I didn't. He did. He won."
At Queen's, he slammed his foot into an advertising board which disintegrated and cut a gash in linesman Andrew McDougall's leg. Nalbandian was fined the maximum of 10,000 euros ($12,600) by the governing body of men's tennis and forfeited prize money of at least $56,800.
The linesman were safe at Wimbledon - no advertising hoardings are allowed on the hallowed turf of this tennis temple. They even felt relaxed enough to take off their blue blazers and officiate in shirt sleeves.
The Argentine has long had a reputation as a tennis firebrand. Ten years ago he was thrown out of a tournament in Chile for hurling a torrent of verbal abuse at a linesman.
Back as a junior in 1999, he was defaulted at Wimbledon in the semi-finals of the boys singles after arriving late for his match.
On Monday, there was no trouble with the time keeping. He and Tipsarevic arrived on a sun-kissed Court One to warm applause from the crowd.
He even earned cries of "Come on David" when battling hard to combat the superior firepower of Tipsarevic but Nalbandian's game simply failed catch fire.
His tirade at Queen's quickly went viral on YouTube but since then he said he has received nothing but supportive messages.
"I think everybody understood it wasn't a good thing that I did but was very unlucky as well," he said.
(Editing by Pritha Sarkar)