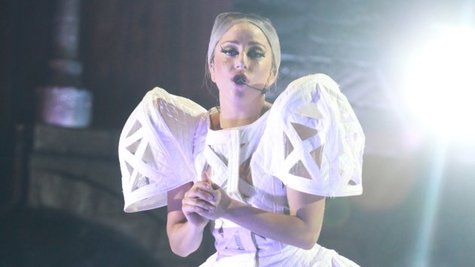 During Lady Gaga's Monster Ball tour, she performed a new song, "You and I," that ended up on the Born This Way album. Now, while on her Born This Way Ball tour, she's debuted a new song that she says may end up on her next album.
While Gaga says she'll announce the album title in September, the name of the new song is "Princess Die," and she played it during her show in Melbourne, Australia on Tuesday night. In a YouTube video of the performance, Gaga says, "So this song may or may not be on my next album. I wrote it a little while ago and I've never ever played it for anyone."
She added, "I'm going to play it because, actually, I've been really excited and impressed with how many super fans have been at every show. I truly feel it would be a disservice to all of you to not play it before I leave."
Gaga said the song, a piano ballad, is "a little bit sad," but isn't "reflective of the music on the rest of the album." "It's about some of the most deep and personal thoughts I've ever had," she explained.
Gaga wasn't kidding about the song being sad: the first line is, "Leave the coffin open when I go/And leave my pearls and lipstick on so everybody knows." It seems to be a song about suicide, with references to taking pills and leaving a note.
As for the title, it's a pun on the name of the late Princess Diana , apparently. It comes from this line: "Maybe I'll just clean the s**t off of these fancy shoes/I'll be a Princess Die, and die with you." Gaga also sings, referencing the manner in which Diana died, "I wish that I would go/In my rich boyfriend's limo/Right after he proposed with a 16-carat stone/Wrapped in rose gold/With the paparazzi all swarming 'round."
Copyright 2012 ABC News Radio