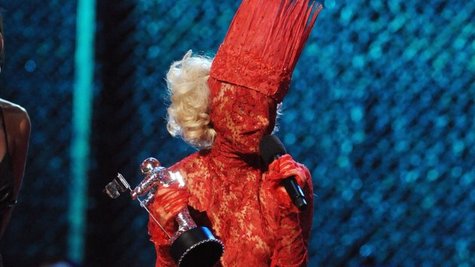 We don't know what her infamous meat dress cost, but we do know that Lady Gaga shelled out a whopping $130,000 for a gown designed by the late Alexander McQueen this week.
The dress is described by Women's Wear Daily as an ivory silk tulle empire line gown from McQueen's autumn/winter 2008-2009 "The Girl Who Lived in the Tree" collection. It went up for auction at Christie's in London on Wednesday, though Gaga phoned in her winning bid. The $130 grand is believed to be the most ever paid for a McQueen dress at auction, WWD reports.
McQueen was a friend of Gaga's and one song on the special edition of her Born This Way album, "Fashion of His Love," is directly inspired by him. It contains the line, "I'm physically crafted to be/As fitting as McQueen." She famously sported McQueen's designs, including his 12-inch-high shoes, in her "Bad Romance" video, and attended the 2009 MTV VMAs wearing a red lace McQueen number.
But it wasn't just her love for McQueen's designs which prompted Gaga's purchase. Proceeds from the auction benefited the Isabella Blow Foundation, which was created in memory of fashion editor Isabella Blow , who helped launch McQueen's career. She committed suicide in 2007 after battling depression. McQueen also committed suicide; he hung himself in February of 2010. A week later, Gaga dedicated her performance at the Brit Awards -- the British Grammys -- to his memory.
Copyright 2012 ABC News Radio