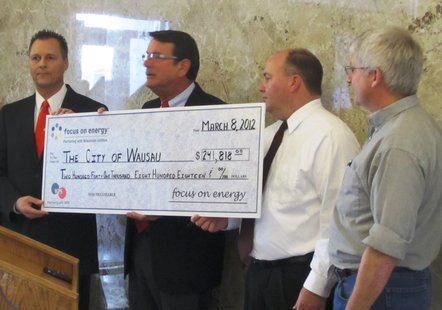 WAUSAU, Wis. (WSAU) – Wausau has installed new equipment at its wastewater treatment facility that will help the save the city money on energy costs.
One part of the project involved replacing one electric and two engine-driven blowers with three electric blowers that are used for aeration in the activated sludge process.
The second piece involved installing two 65 kilowatt micro-turbines that burn methane gas generated during treatment. The energy is used to fuel the electric blowers and heat the building. The city can sell excess energy to Wisconsin Public Service for a credit.
Focus on Energy gave the city a nearly $242,000 check Thursday to cover about 17 percent of the $1.4 million cost of the project. The combined system will save 1.9 million kilowatt hours of electricity or $180,000 per year.
"It is a win-win if we can control our costs and expenses and hold our water and sewer rates down," Mayor Jim Tipple said in accepting the check in the lobby of city hall.
The city is not done with energy efficiency upgrades at the plant. This summer it will replace some ultraviolet radiation equipment that is used to disinfect wastewater.