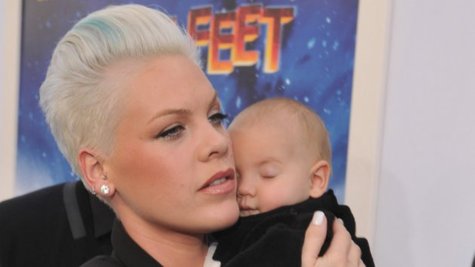 Pink recently announced on Twitter that she was starting work on a new album, but while we wait to hear that, we can watch the new DVD of Happy Feet 2, the animated film to which Pink lends her voice.
The DVD just arrived in stores Tuesday, and it includes some extras, including an interview with Pink discussing the creation of "Bridge of Light," the song her penguin character, Gloria, sings in the film.
Pink says that at first, when director George Miller asked her to play Gloria in the movie, she thought he was kidding. Once she accepted the part, he asked her to write a song to depict a moment where "Gloria can't get to her baby, and the only way that she can touch him is through song."
Pink, a new mother herself, says she got inspiration from children's music. "You think of lullabies as a kid, and you think of the simplest, sweetest thing you can think of, and then you play the piano and you write your song," she explained. But just because the song is like a lullaby, it doesn't mean it was easy to record. "These songs may sound simple, but they are the hardest songs to sing in the entire world," insists Pink.
What helped her, she says, was being able to sing "Bridge of Light" in her own voice, instead of putting on some sort of cartoon character voice. "I'm glad I could sound like me 'cause it would be hard for me to sing like someone else," says Pink. "I was trying to channel my inner gospel singer at one point. I think I got close!"
Copyright 2012 ABC News Radio