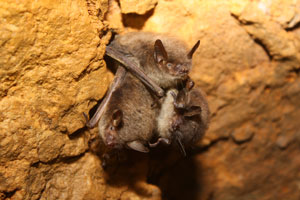 MADISON, WI (WTAQ) - The state DNR has re-affirmed that Wisconsin has not been struck yet by a fungal disease that has killed millions of bats.
Wildlife personnel recently surveyed over 100 places where bats hibernate during the winter, plus 114 other sites – and they've found no traces of white nose syndrome in Wisconsin's bat population.
That's good news for us humans, because bats play a vital role in killing mosquitoes and other insects – thus reducing the risk that folks will get bug-borne illnesses like West Nile.
Experts say white nose syndrome causes bats to wake up early during hibernation, and it depletes them of their energy reserves. Federal officials say the disease has killed almost 7 million bats in the eastern U.S. and Canada.
DNR biologist Paul White said last month that the closest reported white nose cases were in Missouri and Ontario. And while the state can try some management ideas, there's no real way to stop the disease – and it will get to the Badger State eventually.
White says more mosquito bites could be a tell-tale sign. UW-Madison scientists discovered last fall that a European fungus causes white nose syndrome. It was never spotted in the U.S. until about six years ago.