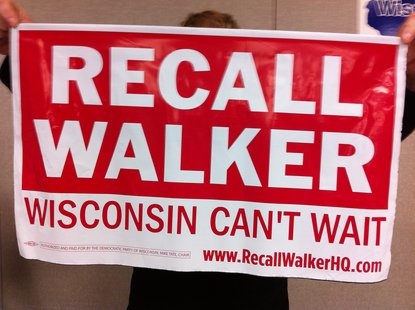 UNDATED (WSAU) For the first time, a new poll shows how divisive Wisconsinites have become over state politics. This week's Marquette Law School poll said 29-percent of the 705 adults surveyed stopped talking to someone about politics, because of disagreements over Governor Scott Walker's policies which led to his upcoming recall election.
The question has never been asked before, and poll director Charles Franklin is guessing that the 29-percent number is higher than it would be in less tumultuous times. Franklin does not see it as people withdrawing from politics. In fact, he tells the Madison Capital Times it's a sign that people are passionate on both sides. And they've stopped talking to someone because the other person won't change his-or-her mind no matter what.
Milwaukee Journal Sentinel analyst Craig Gilbert says other polls show how attached people are to one side or the other. Gilbert says Walker's 50-percent support in the Marquette polls never changes much, despite the daily good-and-bad news about the governor – things like the state's declining unemployment rate, the John Doe probe into his former Milwaukee County aides, or the 25-million he has raised to fight the recall effort. And everybody seems to have taken sides. When the Public Policy Polling firm asked 1,136 people what they thought about Walker's job performance last month, only 13 said they had no opinion. Meanwhile, the new Marquette poll bears out Franklin's contention that more of us are tuning into politics. 38-percent said they've signed recall petitions. 50-percent have tried to persuade others into voting for-or-against someone. 20-percent have given money to a candidate. And despite the divisiveness, 58-percent have talked politics to family-and-friends at least once a week.