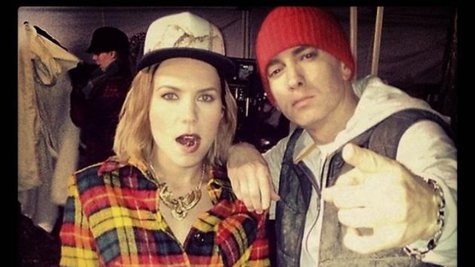 While we wait to hear the new album that Eminem has hinted is coming in 2013, you can hear him on a new single scheduled for release December 11. It's called "C'mon Let Me Ride" and it's a collaboration between Em and Skylar Grey , the woman who co-wrote his hit with Rihanna , "Love the Way You Lie." Skylar was also featured on the Diddy Dirty Money hit "Coming Home"
"C'mon Let Me Ride" is the first single from Skylar's upcoming debut album, Don't Look Down , which Em is executive producing. In a statement on Skylar's website , Em pronounces himself "blown away" by her talent as a songwriter and vocalist. His goal for her album, Em says, is "to give her a chance to connect with the fans who probably know her music, but might not know her yet." He adds, "I think they will be as impressed as I am."
As for Skylar, she says that Eminem's hands-on involvement in her album "has been such a blessing," adding, "I'm getting guidance from an artist I really admire and trust."
When you hear "C'mon Let Me Ride," it may sound familiar to you. Rolling Stone magazine reports that it features Eminem singing the hook from " Bicycle Race ," by legendary rockers Queen .
Copyright 2012 ABC News Radio