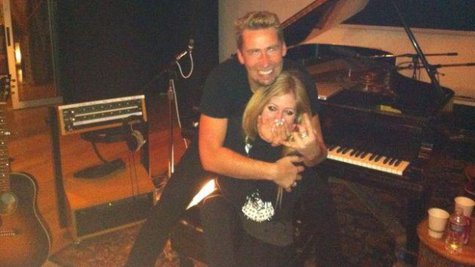 Avril Lavigne and Nickelback's Chad Kroeger are certainly an unusual couple, so it's not surprising that their upcoming wedding will be out of the ordinary as well.
Speaking to Men's Health magazine, Chad says that he has control over "nothing" about the wedding, adding, "I just show up." But he's not worried, he explains, because as he puts it, "[Avril] has traversed these territories before." In other words, Avril's already been married; Chad has not.
"It's nice to have her to guide me through this...she's got great ideas. I would have gone a little too traditional, I think, and she's giving it a rock and roll edge," Chad explains about Avril's concept for their wedding. "Let's just say she's taking the bull by the horns and steering the ship towards what is going to be the most unique wedding that the planet has probably ever seen."
As for whether or not Chad approves of his and Avril's couple nickname, "Chavril," he tells the magazine, "Oh, we predicted that long ago. We pegged it before we decided we were going to spill the beans. We went through a list." He laughs, "Our other guess was AdChav, which sounds like some sort of jet fuel. Chavril was the better choice, and sure enough, that's what the media went with."
That's not to say that Chad and Avril dislike the name. He admits, "When one of us is trying to get the others attention from across the room, we'll say 'Hey Chavril!' It's funny how fast your head turns around, followed by a lot of laughter."
As for whether or not Chad has stopped his philandering rock star ways since he and Avril got engaged, he tells the magazine, "After this many years of being a lead singer in a touring rock band, I've had my fair share of fun. But those days are long behind me...I don't think my libido has changed. I just think that my Rolodex has been confiscated. And I'm okay with that."
Copyright 2012 ABC News Radio