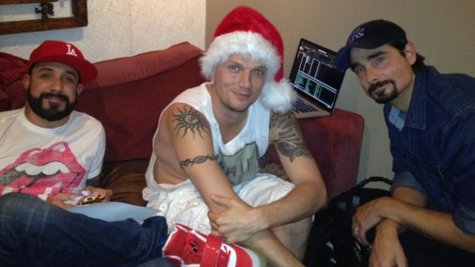 Since The Backstreet Boys announced that Kevin Richardson had returned to the lineup, fans have been waiting to hear new music from the reunited quintet. Now, it's arrived, in the form of a Christmas gift.
The band has posted a snippet of a new song called "It's Christmas Time Again" on their official website. A message reads, "It's officially November, and the holiday season is coming soon! We want to give you the first gift of the season. Maybe your night won't be so silent after all." The group says that the track will be available on iTunes on November 6.
The group had hinted at their holiday activities last week, when they posted a picture of Nick Carter wearing a Santa hat posting with AJ McLean and Kevin, along with the message, "Think of us as Santa's Elves...Can't wait to show you what we've been working on this year!"
The Backstreets Boys will celebrate their 20th anniversary next year. In fact, there's a countdown clock on their website to the actual anniversary date: April 20th, 2013.
Copyright 2012 ABC News Radio